A smart lock is probably the best locking solutions currently available on the market, especially if you lost your keys and even worse, it was stolen. The smart locks are innovative devices, controlled by smartphones, helping you manage and monitor your home's entries and exits. If you're into upgrading your home security level, a smart lock is with no doubt the right way to do it. Here are the top ten best options for 2021.
Yale Assure Lock, Key-Free Touchscreen
If you want to replace an existing deadbolt with a smart lock solution then you should this Then one. Engineered and crafted by Yale Security, it is absolutely – our best choice. It is built to provide a quick entry/exit. Therefore, you don't need to carry a physical key.
This ultimate upgrade with a sleek touch screen keypad by Yale is definitely state-of-the-art, it offers automatically unlocks as you approach the door, as long as you have your connected device with you. Besides the convenience that this lock offers, it also comes with different configurations for your property, and can even get notifications when someone accesses your door.
Kwikset – Kevo
If Kwikset is your favorite choice of lock brand. Then the Kwikset – Kevo 99250-203 is one of the finest smart locks for you. The Kwikset – Kevo features remoter lock access and simplified monitoring. It is one of our recommended choices if you want to upgrade to a Bluetooth controlled locking system. The Kwikset – Kevo connects to smart devices allowing the user to track who is accessing the monitored room. The e-key solution delivers the touch to open technology adding convenience and style. The Kwikset – Kevo is secure dignitary and mechanically.
August Smart Lock 3rd Generation
This lock allows a secure entry without a key. The lock connects to your smartphone device, allowing the user an easy access, while it opens automatically upon arrival. The lock is very easy to install and works with the standard original deadbolt screws. You can also get to keep your existing deadbolt lock and keys. A perfect choice for your home front door.
Schlage BE365
The Schlage company presents an innovative locking solution. The lock which has been designed and built to provide various security features comes with a fingerprint resistant touch screen and provides the convenience of keyless use. You can be safe from intruders who recognize your fingerprints to know your security code. The lock is built using high standard materials and locks automatically to allow maximum security.
Array 23502-119 Cooper Wi-Fi Connected Door Lock
The lock connects directly to your Wi-Fi network, and is controlled by a dedicated app. This allows the user to lock and unlock the entry door from anywhere in the world. It is compatible with Android and iOS devices and has hands-free entry technology. The lock comes with a geofencing feature which sends various notifications to your connected device. As a backup, the lock includes a key usage in case you forget or lose the connected device.
AmazonBasics Electronic Deadbolt Door Lock
An anti-bump lock, allowing for enhanced security, supports 50 user access codes. The lock features vacation mode, low battery alert, and comes with auto-lock functionality. It is compatible with a wide range of smart home devices and can be remotely managed via an app to provide secure access.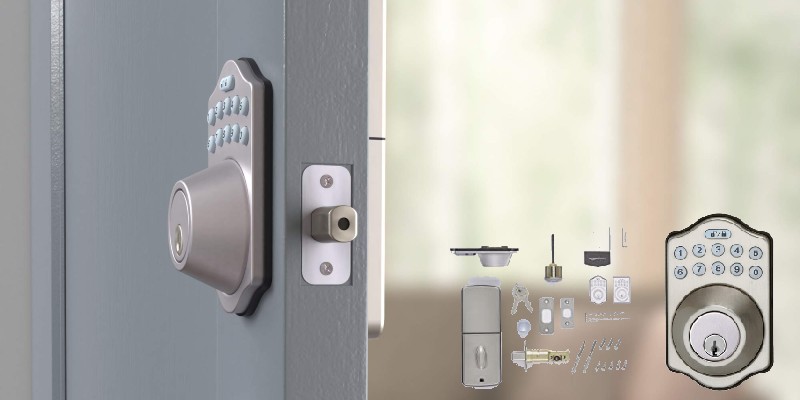 YALE YRD226ZW20BP Touchscreen
Coming with a touchscreen, it allows hassle free door lock and unlocking technology. Easy to install on standard doors, featuring integrated management from anywhere as it connect to any smartphone device, and it can connect to your home alarm system as well.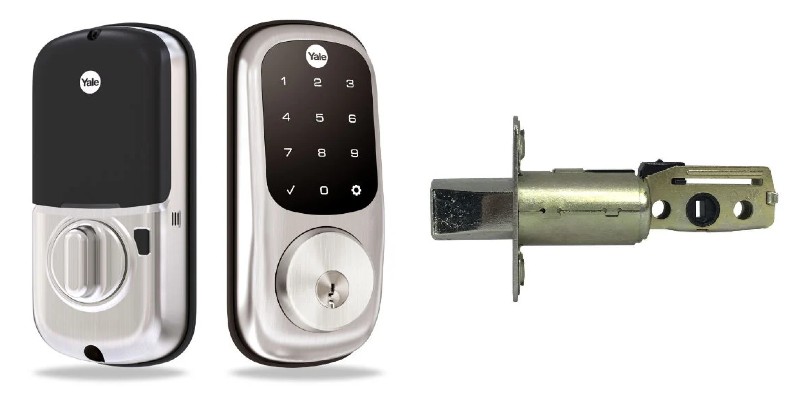 Ultraloq UL3 Fingerprint and Touchscreen
Featuring an all in one flexibility, the Ultraloq UL3 Fingerprint and Touchscreen is a completely waterproof lock. Which is ideal for indoor and outdoor use. It comes with a reversible lever, hence suitable for left and right-handed persons. The lock features simple installation, and long lasting battery.
Wandwoo Electronic Door Locks with Bluetooth
Manufactured by Wandwoo, The Wandwoo Electronic Door Locks with Bluetooth is a smart lock. It is providing easy integration to smart devices, featuring Bluetooth unlocking, with optional mechanical key. The lock features reversible handle and it is fitted for both left-handed and right-handed persons.
Veise Keyless Entry Door Lock
Keyless Entry: This awesome keypad door lock with handle gives you multiple ways to unlock, like passcodes, one-time codes, and good old keys. It's got cool stuff like anti-peeping codes, a backlit keypad, and low battery alerts. Plus, it's built to last with an ANSI Grade 3 rating, runs on 4 AA batteries, and has smart features like 'auto lock' and manual locking. So convenient!